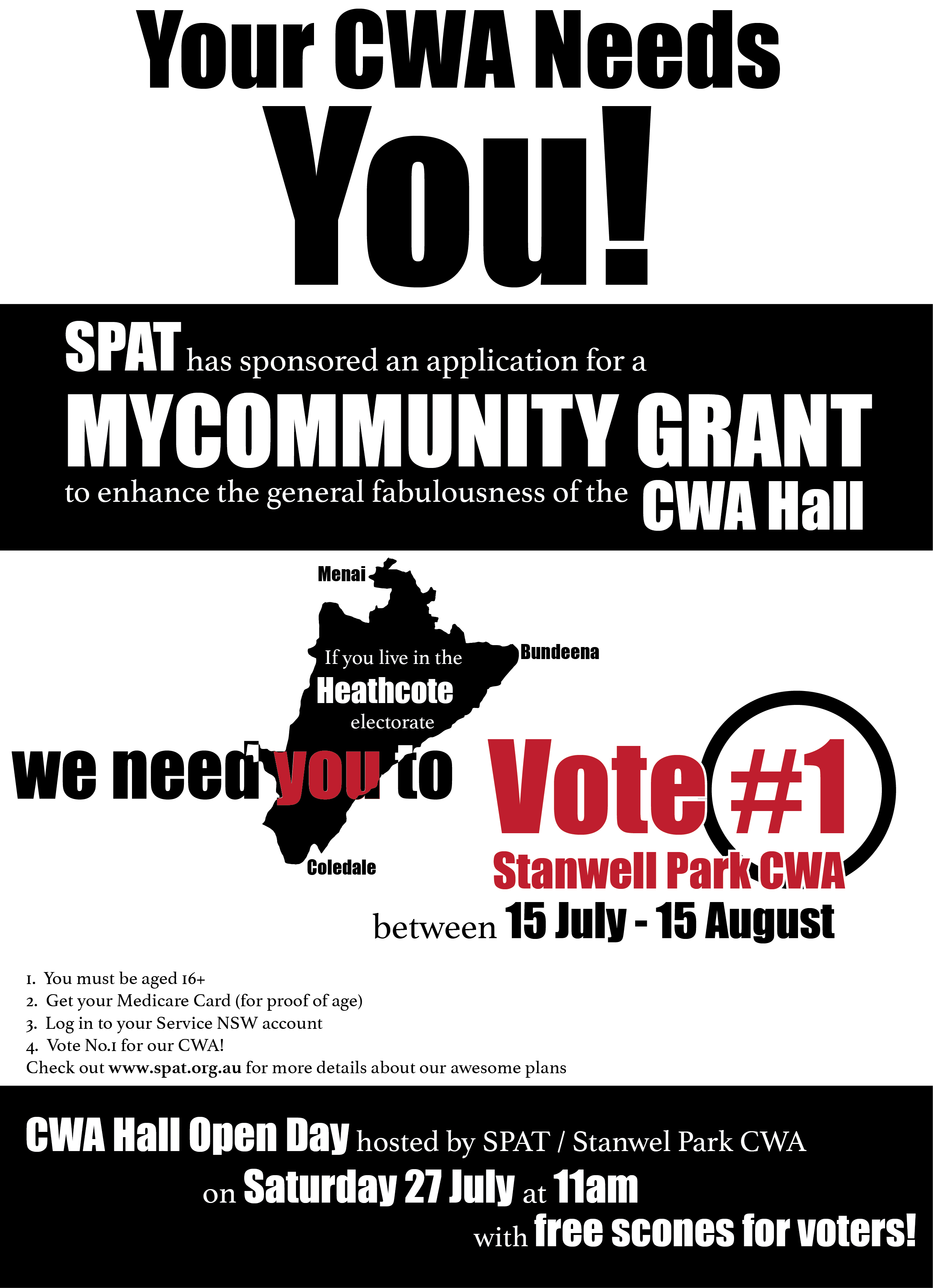 Let us pay tribute to a true pillar of our community. She's been local to Stanwell Park since the 1960s, and has seen generations of families come and, sometimes, go. Under her watchful gaze our town has grown to become a bustling, creative hotspot – home to a fantastic community, all of whom know her well and love her dearly. She supports every local venture: from theatre, music and pantomime, to markets, workshops, yoga and martial arts! She's beautiful, charming and dignified. She brings joy to so many. Our CWA Hall. The beating heart of Stanwell Park. 
Who among us hasn't enjoyed the old-fashioned charm of the CWA? For a grand old dame she's versatile – capable of hosting live music, yoga, a wedding and a play rehearsal, all in one weekend. She holds a special place in the history and heart of SPAT, having been our home since inception, and now we want to repay her years of loyal service. SPAT has sponsored an application for a My Community Grant to improve the amenity of the CWA Hall by
adding a large, covered deck to the north side, that opens out onto the grassy area – perfect for those balmy summer evenings!
adding a mobility-accessible ramp around the front of the hall to a new entry point – linking the entrance to the beautiful woodland setting
adding new storage and a bigger backstage area with a new bathroom – now performers won't have to hold in their wee until the show is finished!
In case you're worried, we don't want to change the character of the old girl, we love her just the way she is. But we think this proposal will add to her fabulousness. 
We have already done all the boring application work but that's not enough to guarantee we will get it. Your CWA needs you! The grants are allocated according to popularity within the State electorate (Heathcote), so if you live between Coledale, Bundeena and Menai we need you to vote. Voting is open between 15 July and 15 August. Here's how:
You must be aged 16+
Get your Medicare Card (for proof of age)
Log in to your Service NSW account and vote No.1 for our CWA!
You must choose 3-5 projects from an eligible list but if you want our CWA project to win, you must give her your No.1 vote. 
Our beloved community matriarch has always been there for us –  now let's do something for her. Please VOTE (and remind your friends and family to vote as well)!