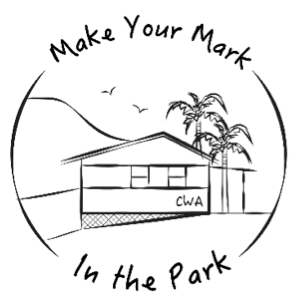 A fund-raiser for our beloved CWA Hall in Stanwell Park
We all have a soft spot for the CWA Hall… Have you celebrated a party there? Danced to a band? Gone to a SPAT show? Enjoyed Yoga? Been part of a Market Day? Tackled taekwondo? Performed in a Panto? The list goes on….
SPAT and the CWA together received a grant from the NSW Government to carry out building improvements to the hall, and the DA was approved, but additional compliance requirements imposed by Council have increased the costs. Covid has forced the cancellation of fund-raising activities, so we are now asking you to directly help us complete the building improvements and "Make Your Mark in the Park".
For $100 you can nominate up to four words to be permanently displayed on Supporters panels inside the hall and receive a ticket to the launch party to celebrate the installation and unveiling of the Supporters Panels (Covid permitting of course).
Your four words can be your name, your family, a memory of an occasion, in honour of someone, a class, a group, an address – whatever you would like! For example:
Stan and Jan Park; Helen Burgh's 40th birthday; The 2508 Rock Band; Cliff from Paterson Ave; Austin and Merry Poole; The Thirroul Family; etc
Imagine the fun of seeing your name (or a special memory) immortalised in the Hall.
Click here to make your purchase:
All money from this fund-raiser will go directly towards the building project, and any enquiries can be emailed to spartstheatre@gmail.com or call Sonia on 0418 200 029.
Please note that this fund-raising drive will close on 4 Dec 2021.
Stanwell Park CWA and SPAT both thank you for your support and we look forward to the improved CWA Hall thriving with community activities again.
Unfortunately the 18 Dec event for the unveiling of the panels will need to be delayed until the new year, but it will still go ahead and we can't wait to kick up our heels, see all the "marks in the park" and have a PARTY!!