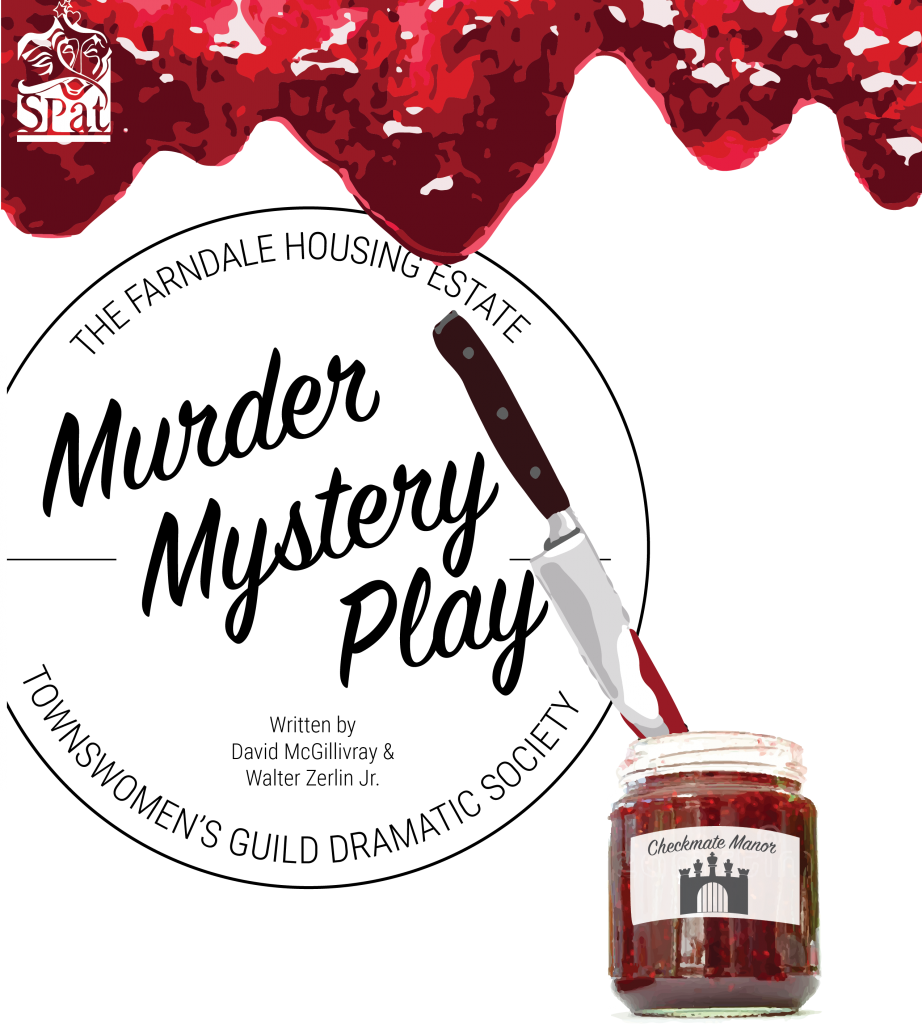 It's time to get a little bit silly and have some fun at our own expense with our latest comedy offering [deep breath] … The Farndale Housing Estate Townswomen's Guild Dramatic Society's Murder Mystery Play!
It's the classic 'small-town amateur theatre puts on a play that goes disastrously wrong' story. What could possibly go disastrously wrong?!
One of the many wonderful things about this play (apart from the whip-smart dialogue, all-too familiar characters, and so-bad-it's-good scenery) is that you, the audience, get a role… as The Audience! Expect to see that fourth-wall come crashing down – our performers are encouraged to improvise!
Speaking of improv, the directors of this fabulous piece are Illawarra theatre stalwart and (as anyone who saw her as the evil baddie in SPAT's panto last year will attest) ad lib queen Nurina Simpson, and panto headliner and comedy genius Adam Wade. Our cast of versatile actors, who each take on myriad roles throughout the play, includes Kelly Marie Michael, Bernadette Lemesurier and Rosanne Travers.
Teen-friendly Saturdays: Photo Booth, Dress-up Comp, Director Q&A
This is the perfect night out for groups and families with teens and young adults – note our concession pricing includes students and young adults under-20). On Saturday nights there will be a Murder Mystery-themed dress up competition so don your pipe and cravat, draw yourself a curly moustache, and channel your inner Agatha Christie, Sherlock Holmes or Bertie Wooster – prizes for best dressed. A photo booth and dress up box will also be available to make the next night extra #spat #farndale #murdermysteryplay. Our directors and cast will also be holding a 20 minute Q&A session at the end of the Saturday performances. If you're a budding theatre director or actor and have any burning questions you'd like to ask – now's the time!
La Di Dah Sundays: High Tea
Sundays are school nights so we've been sensible and made the performances 2.00pm matinees – but if you do fancy making it a little bit cheeky why not book our High Tea Option. Starting an hour before curtain up, for an extra $15.00 you can treat yourself to unlimited cake, scones with jam and cream, and other baked delectables (courtesy of the CWA ladies), with complimentary bubbles on arrival. We're talking doilies, best crockery and flowery aprons here. All proceeds from the High Teas will be split with the Stanwell Park CWA. Treat a mum for Mother's Day (14 May) and make an afternoon of it!
Accessibility
The CWA Hall is wheelchair accessible. Companion tickets are available for ticket holders who need assistance. Call ‭0477 784 079‬ instead of booking online. Please call ahead (‭0477 784 079‬) if you have any accessibility needs and we'll accommodate you.
Tickets and times
Tickets:
Show only tickets: $20.00 Adult ($15.00 Concession – pensioner, student, U20)
High Tea & Show tickets from 12.30pm on Sunday 14 & 21 May: $35.00 Adult ($30 Concession)
No need to print your tickets, on your screen is fine!
All our shows are BYO, but hecklers will receive disappointed looks and be expected to explain themselves. You have been warned.
This show is suitable for children 8+, it includes mild adult themes.
Running time is approximately 1.5 hours including interval.
Curtain up:
Friday 19 May: 7.30pm
Saturday 13 & 20 May: 7.30pm
Sunday 14 & 21 May: 2.00pm (High Tea from 12.30pm)