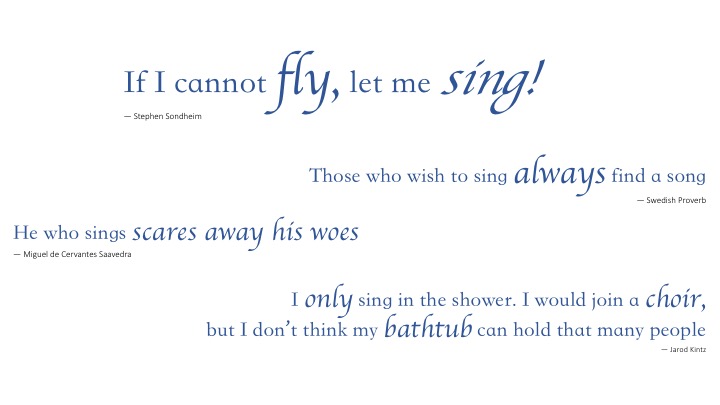 We meet every Friday at the CWA in Stanwell Park to practice, all comers welcome!
SPAT Singers are a mixed voice singers who perform under the musical direction of Rod Lander. The group is essentially a group of like-minded people who simply enjoy the fun and social experience of raising their voices together in song.
If you resonate with any of the quotes above or they bring a smile to your face perhaps you should come along and join in as we make music. The group's repertoire is varied and exciting. Suggestions for new songs are always welcome.
Each year we perform for our community.  This performance is a gala evening when the singers will be performing some of their favorite songs and we hope yours.  The evening is a combination of great music and great food in the form of a three course dinner.
This event is always fully booked so we would encourage you to make your reservations as soon as details become available.
Our door is always open to new members and we don't have a formal membership structure – just come along and sing!
To find out more about joining SPAT Singers or to book the SPAT Singers for a performance, contact Wayne on 02-4294-2661 or simply send us an email.
The SPAT Singers were formed in 1984 as an offshoot of the Stanwell Park Arts Theatre.